Fast Track Workforce Incentive Grant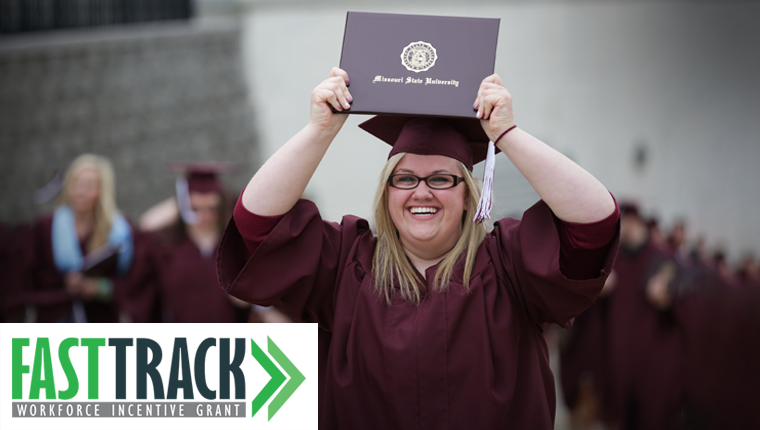 Return to school
Qualifying adult students may receive free tuition with this grant to pursue a certificate, degree or industry-recognized credential in an area designated as high need.
How much does this grant provide?
The Fast Track grant is designed to ensure, when combined with other governmental financial aid, that tuition and fees are fully covered.
Awards will be for any remaining tuition and fees not covered by other state and federal student aid programs.
For individuals for which other aid covers the full tuition and fee costs, students are eligible for an award of up to $500 to cover other education-related expenses.
Fast Track Eligibility Requirements
This grant may be renewed by meeting all of the initial requirements listed below and by making satisfactory progress, which includes maintaining at least a 2.5 cumulative GPA.
Are you eligible? Ready to get started?
6 Steps to get on the Fast Track
If you need assistance, Missouri State's Adult Student Services office can help.
Step
1
Select an approved program.
See list
Step
2
Submit your college application.
Apply
Step
3
File the Free Application for Federal Student Aid (FAFSA)
File Application
Step
4
Create a state student financial aid portal login.
Set-up login
Step
5
Use the state financial aid portal to complete the Fast Track application.
Apply now
Complete the FAFSA each year you are enrolled (or are planning to enroll) in college. Individuals interested in receiving Fast Track for the 2023-2024 academic year will need to complete the 2023-2024 FAFSA, using tax information from 2021.